The Rolex Yachtmaster Oysterflex
Watches
A little History lesson and my thoughts on the Yachtmaster Oysterflex.
Rolex the most renowned watchmakers in the business and the uppermost status of success. Rolex dates back to the 1905 sand was founded in London, UK. Since the founding of Rolex they have been developing most of the biggest inventions and revolutions on in the world of watch making, for example: the "Perpetual" movement was the first automatic movement and revolutionary for its day and age. Also the "Oyster" case was the first watch case that was a hundred precent: watertight, dirt resisted and shock resisted.
So quit a story behind the most known watch makers in the world. Everyone knows how a rolex looks and knows a bit of history. Also people know like I earlier stated that Rolex is a symbol of status. When you wear a Rolex and someone noticed it, they would immediately think your wealthy or you have "made it in life". Sadly tho because its such a loved watch and a symbol of status Rolex and especially there Submariner model is one of the most replicated watches. Some replica rolexes are just astonishing and you can see if its real or fake. This is the part about wearing a rolex watch I don't like its that some one that noticed you have a Rolex they immediately think "cool but is its real?" and sometimes even ask it. besides that personally I think there are more special watches for the price of a Rolex, so I don't think I wouldn't buy a Rolex ever… but…
Last year Rolex launched a new model the: Yachtmaster Oysterflex. A amazingly cool Rolex and yes I would love to wear it. But Miss Horlogerie you've said "I wouldn't buy a Rolex ever". True I have to take in my words. The Yachtmaster Oysterflex is everything you could expect from the normal Yachtmaster but smaller they come in 2 sizes 37mm and 41mm. Ive tried the 41mm I had to say for a watch with a rose gold case its not heavy at all! What Rolex did they have made a Oysterflex rubber strap with aluminium supports molded in to let the rubber feel more rugged. Also on the back of the strap there are 4 rubber supports to lifted on the wrist to let the watch always raise a little bit above your wrist. In my opinion its makes the watch not feel as comfterble around the wrist as the regular Yachtmaster. The case is made out of rose gold with a Ceramic bezel. The most shocking was that all the picots I've saw on the internet it looked like a really big watch (41 mm) but on the wrist it looked small, a little to small to be really honest with you. It felt like I was wearing a 38 mm or even a 37 mm. }
Overall a gorgeous looking piece of Rolex, but for my collection? I don't know it would be a great watch for vacation and traveling (how ever I do prefer a Worldtimer or a GMT in that occasion). If you have any idea how to convince me to buy a Yachtmaster Oysterflex Let me know!
Top view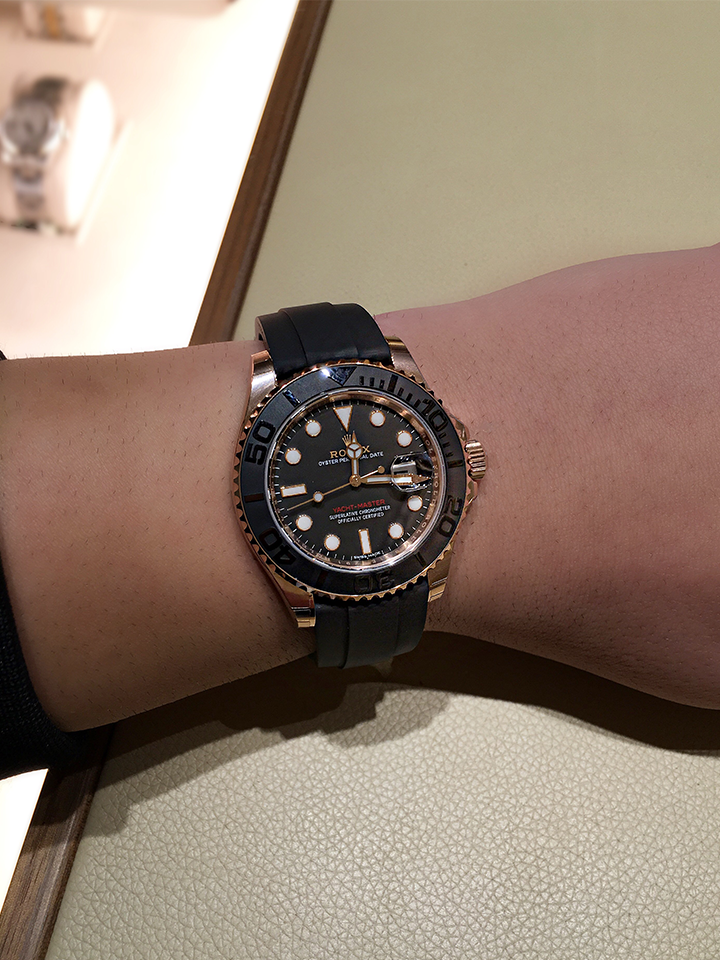 Back View